Laviere Kawasaki

Hideto Hirogawa

Senior Director, Licensed Caregiver
When our clients have difficulty bathing on their own, we have them use a special bathtub—but it requires caregivers to wash users' bodies and hair while they're lying on a stretcher about a meter off the ground. It's a process that's often frightening for our clients, and there's also a fall risk associated with it. Using the special tub also takes time and requires two caregivers.
We started looking into whether there might be technologies to solve these problems. That's when the Lab introduced us to Viami. Because Japan has such a strong bathing tradition of soaking in tubs, we were skeptical at first as to whether users would be satisfied with a shower. But the Lab assured us that both users and caregivers reported satisfaction with the device at facilities where it had already been introduced, so we were hopeful that we might get the same results. When I actually went to the showroom and tried it for myself, it felt great—way better than I had imagined. That convinced me that our clients would enjoy the new bathing experience as well.
When we first started using Viami at our facility, some of our clients couldn't believe they would be able to bathe in it given the way it looks. But once they actually used it, they seemed satisfied—telling us that it really warmed them to the core.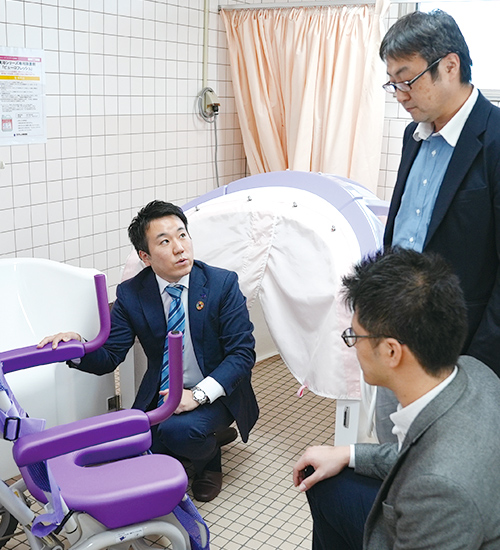 The feedback from our caregiving staff was fantastic as well. While the special tub required two people and came with concerns about falling and other risks, switching to Viami eliminated those fears. That was really important to our staff.
Plus, the fact that the old tubs required two caregivers also meant that people had to wait to bathe until two people were available. But since Viami can be operated by just one caregiver, it has the benefit of being less of an ordeal to use.
In short, Viami delivered beyond our expectations, and we are eager to continue using it. The unit now requires a seated position, but if they could develop a way to enter in a more horizontal position, we could use it with even more of our clients while further reducing the strain on caregivers.