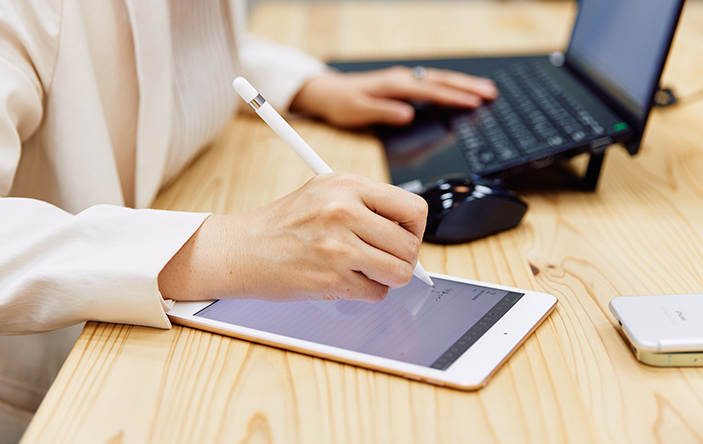 From
Future Care Lab in Japan
This project brought home
just how critical requirement
definitions are when introducing
new technology
It often takes two caregivers working together at nursing care facilities to move patients from their beds to wheelchairs. It's challenging work—not only because it's difficult to coordinate the timing of their movements, but also because of the tremendous back strain involved in lifting the person. When the development company told us about the Resyone Plus in their marketing presentation, we thought that a product that could transform half a bed into a wheelchair would go a long way towards solving these problems.
We started by renting out the beds to a facility for two weeks as a trial in order to do some on-site testing. Not only was this our first on-site testing effort after establishing the Lab, it was also the first time we had introduced a technology to our flagship facility—so the head of the senior care center and its employees were a little apprehensive about whether they'd really be able to make it work. But a few days later the employees put it to use, and after a week they told us that the Resyone Plus was making things easier on them. When we went back to collect the beds two weeks later, they didn't want us to take them. Both the users and their families were delighted with the product, so we decided to officially introduce them to the facility.
The development company team carefully prepared a method for verifying the before-and-after results of the introduction, which allowed us to visually track the positive responses we received from three separate groups: users and their families, caregiving professionals, and facility administrators. The data was tremendously valuable in our subsequent efforts to test and verify Lab technologies. The project also underlined for us just how important it is to have requirement definitions to help us decide whether a technology we're introducing to a care setting is a good fit for the target users.
Going forward, we want to make a concerted effort to bring in solutions for users who need more intensive levels of care. The role of the Lab in this project was to make clear requirement definitions and serve as an intermediary between nursing care facilities and development companies so that we could seamlessly offer the right product to the right people—and the experience gave us lessons that serve us with every piece of technology we work with.
Interviews based on information current as of September 2021.