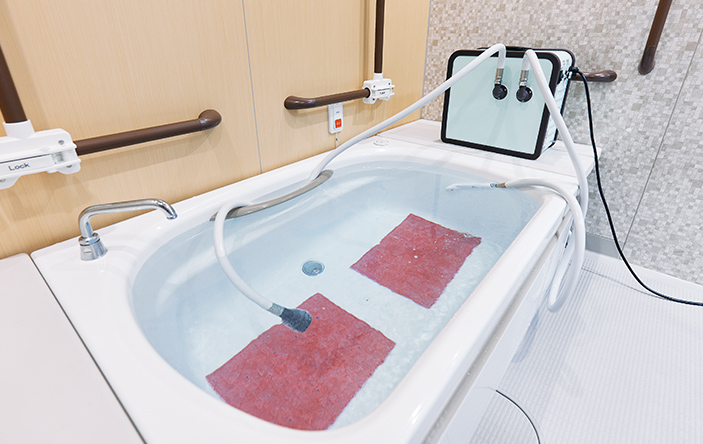 From
the Development Company
Truly understanding
the power of being able to
thoroughly test and evaluate
products at the Lab and on the front lines
Our company had always had an interest in ultrafine bubble technologies, and this project got its start when we used our patented technology to establish a method for creating them. When we thought about the question of how to best utilize this technology, we came up with the idea of helping with bathing at nursing care facilities. From there, the PURETE product was born.
After we had brought PURETE to Future Care Lab in Japan ("the Lab") for testing and evaluation, it was time to actually verify it at nursing care sites. But the pandemic prevented us from physically visiting those sites, and we were worried about having to explain the product remotely. Would the frontline members understand how to use it? Happily though, the whole process ended up going smoothly thanks to careful follow-up by the Lab. The Lab also verified the product in advance by creating its own mock impurities, reviewing scientific evidence on ultrafine bubbles in the literature, and otherwise making sure that no stone was left unturned during the testing and evaluation process. Once these preliminary evaluations were complete, the Lab selected the right trial facility based on criteria that predicted benefits from introducing the product there. The two-stage evaluation that led to the on-site testing was fantastic, and an advantage that seems unique to the Lab's Sompo Group.
About two and a half years after we started selling PURETE, we were putting almost a hundred units in nursing care facilities each year. The trend has in part been propelled by the product's ability to address personnel shortages during the pandemic and the desire to reduce the number and duration of direct contacts to prevent contagion. Going forward, we hope to promote even more widespread use of PURETE—to the point that scrub-free bathing is simply the norm at nursing care sites. We will continue working to develop and make commercially available social services products other than PURETE with the goal of crafting solutions that delight both users at nursing care facilities and caregivers alike.