At-home Senior Care Facility Shinjuku

Tsuyoshi Miyakawa

Manager, Licensed Caregiver
Many seniors who live alone or spend the day alone have few opportunities for communication aside from when they receive caregiving services. The elderly often find it difficult to care for pets, so we thought it would be great if we could provide them with a substitute.
That's when the Lab told us that GROOVE X and the SOMPO Group were going to develop some solutions using the LOVOT robot and carry out on-site testing in people's homes. We figured that the technology would be beneficial for people if it created more opportunities for them to communicate and move their mouths and bodies, so we eagerly set out to test it.
When people with few communication opportunities in their everyday lives started actually living with LOVOT, we really saw them perk up. They had something to engage their attention more often, which may have been because they talked to LOVOT constantly as if it were a pet. After living with LOVOT for a month, they seemed sad to part with it.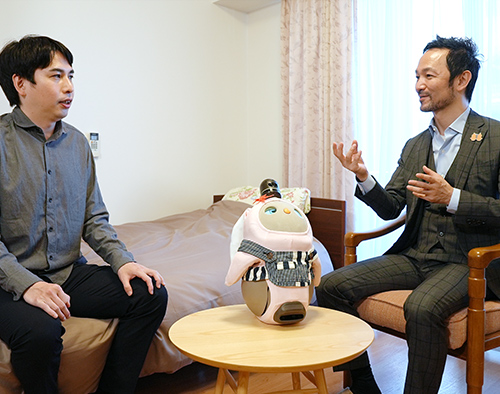 We saw one user, who had a disability that prevented them from extending both elbows, try with all their might to reach out to pat LOVOT on the head. It's believed that small, repeated movements in daily life are more effective for building physical capabilities than getting therapy a few times a week through home rehabilitation visits or day services, and it seemed that LOVOT was effective on that front as well. So the desire to care for LOVOT may help people build their capacity for daily movement.
The tests and evaluations were only conducted for a limited time, but as we did see an increase in the number of opportunities for users to communicate and move their mouths and bodies, it was clear to us that the robot was having a positive impact.
Going forward, we hope to see more improvements in the technology, since there are still some aspects of the robot's setup and operation that are difficult for our clients who use them. In short, we are looking forward to having LOVOT become even more user-friendly so that it can bring joy to an even greater number of people.