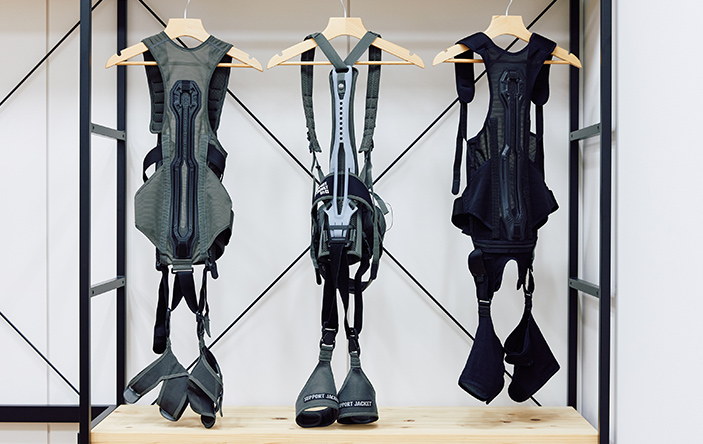 From
the Development Company
Testing and evaluation by
Future Care Lab in Japan led
to a confident product
introduction at nursing care sites
We had been looking for a way to alleviate lower back and general physical strain on operators engaged in difficult labor—including those loading and unloading customer cargo at logistics worksites tied to our original parent business—so in 2010 we entered into a joint development project on a powered exoskeleton with the Tokyo University of Science. Full-scale rollout of the project began in 2014, and our company continued to develop assistive suits that were lightweight and affordable to address the problems with them at the time; namely, they were heavy and expensive. We completed the SUPPORT JACKET Bb+PRO in 2016, the SUPPORT JACKET Bb+FIT in 2018, the SUPPORT JACKET Ep+ROBO in 2019, and the SUPPORT JACKET Bb+PRO II in 2020.
Future Care Lab in Japan ("the Lab") approached us during a trade show about a solution that would alleviate back strain on caregivers who made home visits to help with bathing tasks. That was how we started working together. They started by doing a trial introduction at a Sompo Care facility. Based on feedback about cost and from on-site personnel who actually wore the devices (and found them hot with prolonged use, for example), we set out to develop the SUPPORT JACKET Bb+PRO II, a more comfortable, lower-cost suit that would still offer the needed assistance. Once the on-site testing and evaluation was complete, the Lab took charge of giving out product information at other Sompo Care facilities. I thought they set up a wonderful system for reliably sharing product information they had deemed critical as a result of their testing and evaluation.
We've sold a total of 17,000 SUPPORT JACKET Bb+ series products to date, and they're currently being put to work at many nursing care sites as well as in the usual manufacturing, logistics, and agricultural settings. We've also been getting more orders from overseas lately. We're now looking to develop an even more user-friendly assistive suit, something that might even be used in regular retail settings like a typical work uniform.